Building an embedded XP operating system for a specific HW
Microsoft Windows XP Embedded – Introduction of the system
Microsoft Windows XP Embedded (MS XPE) operating system is a convenient alternative for a dedicated device applied not only for management in industry and visualization of technological processes, but it is certainly aimed for applications used by the general public such as ATM, slot machines, attendance and booking systems, meteorological stations, commercials, tanking machines at the petrol stations, car applications and other.
The base of the Microsoft XPE operating unit is made of a standard XP Professional desktop operating system, as a matter of fact its core (kernel).
For its customers, Q - PRODUCTS can generate operating system XPE for a specific hardware.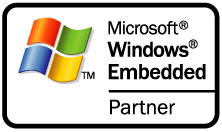 Microsoft Embedded products:
Microsoft Windows XP Embedded
Microsoft Windows Embedded Standard
Microsoft Windows Embedded CE
Microsoft Windows Embedded Enterprise
Microsoft Windows 7 Professional for Embedded Systems
Microsoft Windows 7 Ultimate for Embedded Systems
Microsoft Windows Vista Business for Embedded Systems
Microsoft Windows Vista Ultimate for Embedded Systems
Microsoft Windows XP Professional for Embedded Systems
Microsoft Windows Embedded POSReady 2009